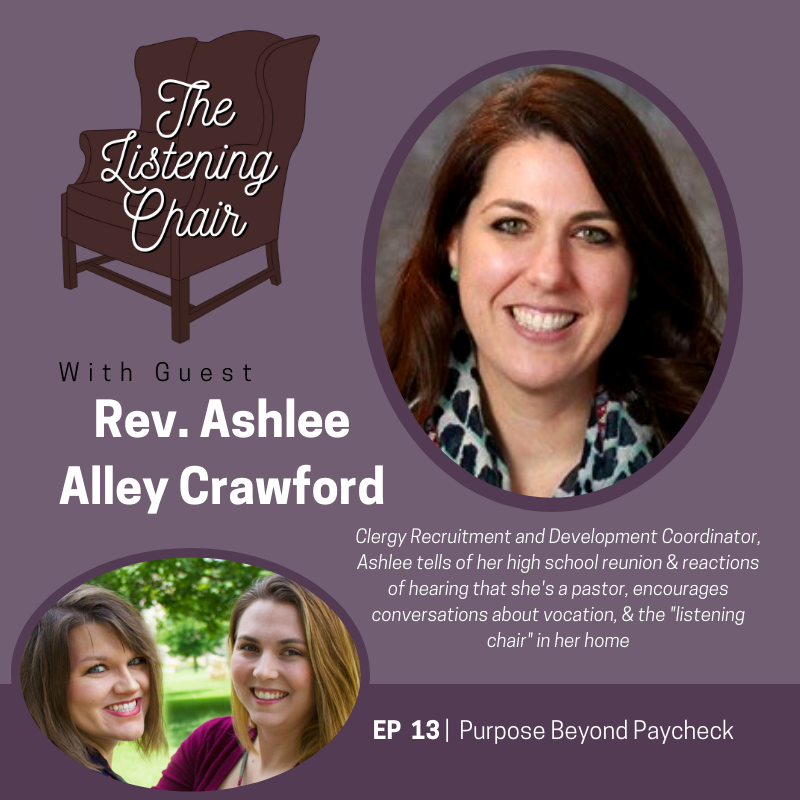 "It's really exciting, those times of the unknown when you are fully open and trusting God  [toward your vocation]. It's a place of deep trust. It's scary, but exciting."
After 12+ years of assisting others in discovering their vocational calling in campus ministry, Rev. Ashlee Alley Crawford now does similar work as the Clergy Recruitment and Development Coordinator for the Great Plains Annual United Methodist Conference.
She's a high energy-planner who enjoys running, reading, and making time to pray in her beloved turquoise chair.
This episode kicks off with a hilarious story of her ten year high school reunion and the responses she got as she shared that she was a pastor, then Miranda asks why these ridiculous reactions that are sadly all too common for those who serve in ministry.
Ashlee goes on to encourage us that while we may struggle in moments of discernment, we will recognize God's voice when we hear it. Like the sheep in John 10:27 who hear and recognize the voice of the Shepherd, so shall we.
She challenges us not to fear moments of doubt and questioning, for those are simply guiding us as our vocational callings evolve. Ashlee lets us in on the dark moments in her story that let us know we're not alone in questioning God.
Exploring this idea of vocational calling is as area that Ashlee loves, nay-- has mastered, and she writes about it in her, 5 Cups of Coffee.
Want more Ashlee?  (We know we sure do!) You can check out her blog.
The Listening Chair is an outlet of the Institute for Discipleship (IFD).

This episode is sponsored by the Summit Youth Academy - a week for high school juniors and seniors to explore their faith, learn Wesleyan theology, and connect with other youth.