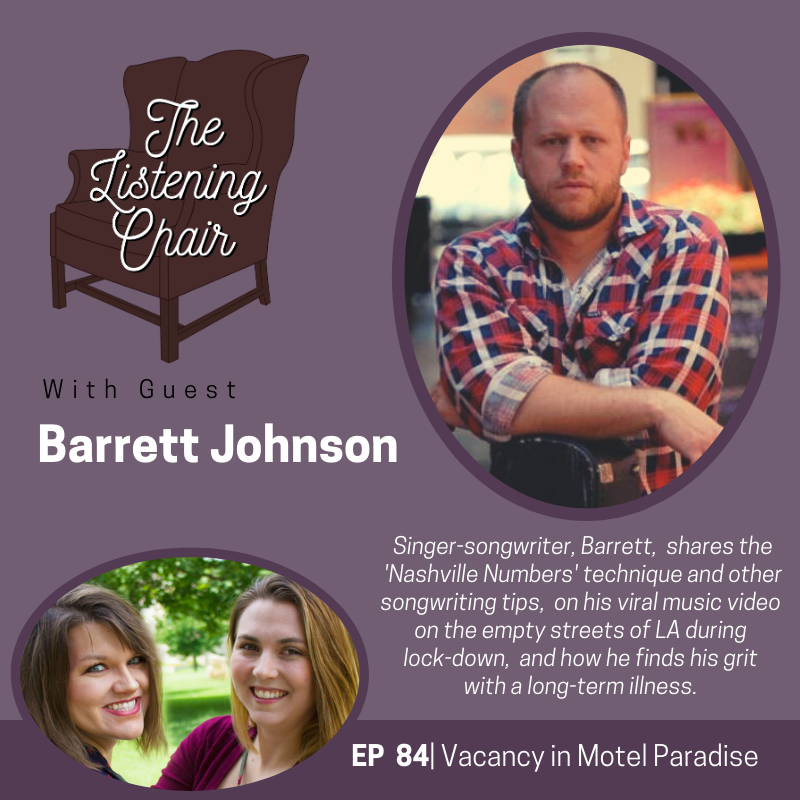 What are some songwriting tips to get your songs featured on @Freeform, @ABC and @NBC shows?
.
How do you know that you are creating something along with the Divine?
.
Are there more pros than cons to having a super-unique sound as a singer-songwriter?
.
Where does one find grit and stay determined with a long-term illness?
.
Is lockdown during a pandemic the ideal time to make a music video on the empty streets of LA? 
.
Why would Barrett make a horrible but hilarious life coach?
.
All of this and more is explored as @_motelparadise_ (Barrett Johnson) got cozy in @thelisteningchair podcast.
.
Hop over to your fave podcast platform today and find courage, comfort, and clarity in your own life's purpose today. 
.
 Three years ago, Southern California based songwriter Barrett Johnson had a mystical experience that changed his life. He sold all of his possessions except a guitar and a suitcase. 
Recently, the nomadic songwriter took to the empty streets of Los Angeles for the music video, "Desert Island Living Room," to tackle why we're so lonely when we're only a wall away. His latest project is called Motel Paradise. 
Barrett's songs have been heard on ABC's Nashville, NBC's Parenthood, and ABC's Private Practice. Johnson's second band—Man of Leisure—with longtime friend Josh Hanson, released their first single, "You Are My Home," which played on Freeform's The Fosters. The song has since been heard over 2.5 million times on Spotify alone.
.
This episode is sponsored by the What If Project Podcast. 
.
The Listening Chair is a ministry of the Institute For Discipleship at Southwestern College of Winfield, KS.