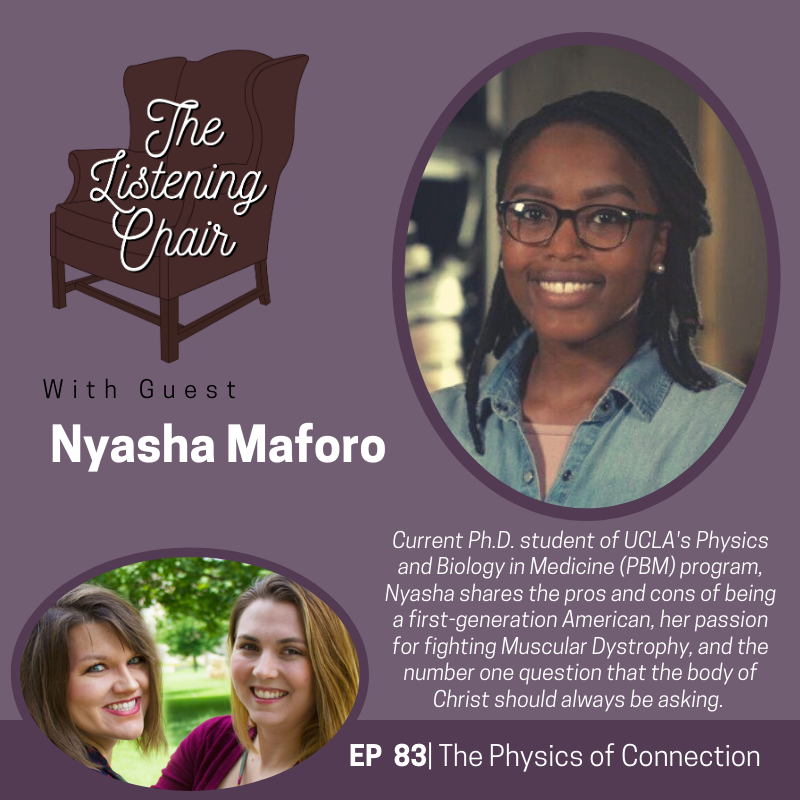 What is one question that Christians should always be asking, but aren't asking it often enough? 
.
How can you cultivate a feeling of belonging when you feel so different than others?
.
In what ways did God point her toward serving others by researching Muscular Dystrophy? 
.
How can our differences with others serve our relationships?
.
What unique thing about COVID jumped out at her long before the general public in the US noticed?
.
What is one easy step to take during this odd time that helps your fellow neighbor? 
All of this & more w/ @NyashaGracious in this ep. Read below for more on her and then pop in those earbuds for courage&clarity in your life purpose! :) 
.
She studied Physics at Fort Hays State University in Hays, KS and received her Bachelors of Science in 2015. After graduating with her BS she spent a year in Chicago to participate in an NIH funded Post-Baccalaureate Research Education Program (PREP) at the University of Chicago. 
.
While there she was involved in a quantitative radiomics research of multi-parametric breast MRI. Following her postbacc, she went to UCLA to pursue her PhD in the Physics and Biology in Medicine (PBM) program. 
.
Her research interests lie in the design and analysis of diffusion cardiac magnetic resonance imaging (cMRI) techniques with a focus on cardiac biomarkers that may aid in the diagnosis and prognosis of cardiac disease. Her current work aims to determine cardiac biomarkers most sensitive to microstructural remodeling in Duchenne (doo-shen) (Muscular Dystrophy (DMD), and more specifically, biomarkers that are indicative of early disease progression in this population.
.
Follow her on Instagram @NyashaGracious