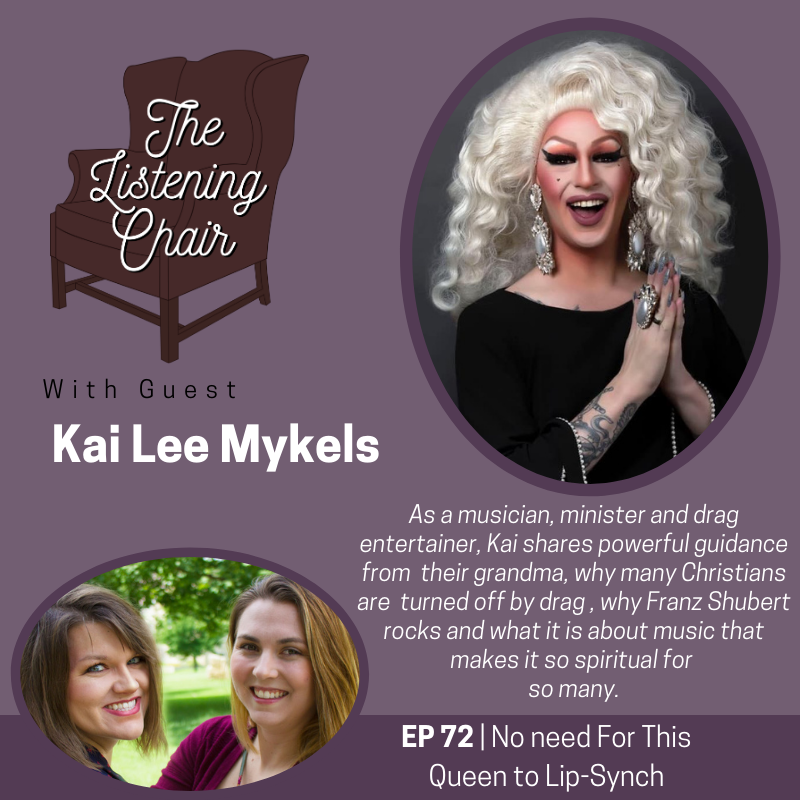 @kaileemykels got cozy in @thelisteningchair podcast and, Lord, have mercy, things.Got.Real. (Real quick!)
.
We got real around the following:
.
Why some Christians struggle to accept the drag community and cohost, Meg (BFFs with Kai since high school show choir) shares openly about her discomfort with it. 
.
What are some signs to look for if you were made to be a conductor?
.
What does the creative process look like for one who was the first drag entertainer to perform on the south steps of the Texas State Capitol building (May 2012) and the Red Rock Amphitheatre stage (July 2017)?
.
What can most churches learn about the vulnerable hospitality created within the drag community?
.
What guidance did their Grandma give them that helped them to love and fully accept themselves as queer?
.
What are the unique needs of music educators in order to be sustainable professionally?
.
What is spiritual about the classical composer Hans Shubert? 
.
And so much more!
.
Keep readin' for more on Kai, friend.
 Joshua Kai Brown AKA Kai Lee Mykels, or simply Kai, (they/them) is a non-binary queer conductor, drag entertainer, comedian, and lover of life. 
.
They serve as the Music Director and Lay Pastor of Mission and Innovation at 1st Christian Church COlarado Springs.  Kai has been the Artistic Director of Out Loud since January 2017. Kai is proud to be part of GALA Choruses and a member of the American Choral Director Association. 
.
This episode is sponsored by the Youth Ministry Institute. Explore how they can best equip you for you in youth and children's ministry here: https://yminstitute.com/.
.
The Listening Chair Podcast is a ministry of the Institute For Discipleship at Southwestern College.